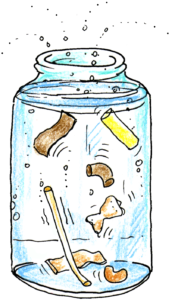 Pour a can of clear or lightly colored soft drink into a transparent container. Drop in a few pieces of raw pasta.
Initially the pasta sinks to the bottom of the container because each piece is denser than the liquid.
Bubbles of gas attach to the pasta and it slowly rises to the surface.
Your students are pretty interested at this point in just what's going on!