Oops, I forgot to post about desk tags after the "It's Just the ABCs" post.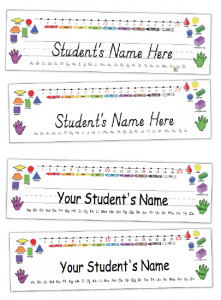 These desk tags are FREE or a few dollars. The free desk tags feature colors, two-dimensional and three-dimensional shapes, a number line, an alphabet, and left and right hands. Choose from the Century Gothic font or the D'Nealian font.
The desk tags that are a few dollars have been saved in a Word™ document so you copy and paste your class list into the document. Every name is placed on a desk tag. No need to write each student's name. It's great if you have a new student at the last minute, just add the name and print!
Purchased desk tags have been saved in Comic Sans, Century Gothic, and D'nealian fonts. It could be the best $3 you ever spent – saves time.
There's also a bundle with the three fonts.
Let me know if you need a desk tag with a different font or different features. Maybe a multiplication table? Maybe a map? I can develop the desk tag and post it on TPT for you.
What else could be added to a desk tag?