So you have an alphabet on the wall or on their desks. You just can't quite read their handwriting.
Consider having students practice their handwriting skills a few minutes every day while you walk around the room checking their posture, how they hold their pencils, and if they're forming their letters correctly. More than a few minutes and your students tend to lose interest in working carefully. This can result in sloppy handwriting habits.
I explain it by comparing practicing good handwriting to practicing a sport or a musical instrument. Do it well or not at all. I also try to emphasize that people might judge a person (I wouldn't, of course :-D) based on his/her handwriting so learning to write legibly is important. Linda Starr has more at Education World.
Learning Page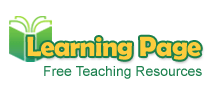 features great resources including FREE practice sheets for three fonts: Zaner-Bloser, D'Nealian, and Cursive. Become a member for free and they'll let you download 4 worksheets for every letter of the alphabet. Three worksheets have a picture like ball, bell, and bat. The fourth worksheet has the letter, one letter to trace, and lines for writing more letters without the support of tracing lines.
The site also has resources for calendar, money, senses, time, measurement, and numbers. Download in sets and you'll have an amazing collection of resources!
Do you have other suggestions for helping students write legibly?